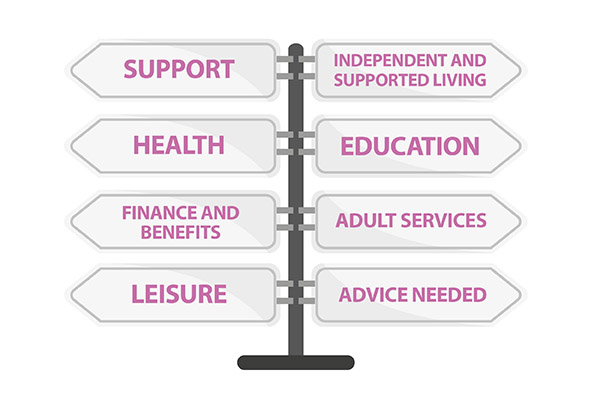 Transitions-to-Adulthood-Leaflet
The Transitions team works with young people and their carers who have received support from children's services and/or who are likely to need social care support after the young person reaches 18. There can be many changes in how services are provided when the young person reaches 18, so the Transition team work closely with other professionals and services such as Children's Services (Disabled Children's team and Looked after Children), the Early Help team, Special Educational Needs team (SEND), Children and Young Peoples Service (CYPS), Adult Community Learning Disability team, and schools and colleges.
The aim of the transitions team is to support and prepare young people for life as they become an adult in line with the Preparation for Adulthood agenda (Preparing for Adulthood: All Tools & Resources – NDTi). The aim of the team is to support young people to;
Access and gain paid employment.
Achieve a healthy life.
Access opportunities for further education, training and learning.
Provide guidance and support around independent living (including choice and control around housing options available).
Promote friendships, relationships and involvement in the local community.
Raise aspirations and to help them to reach their full potential.
Enabling and supporting young people to be as independent as possible.
To find out if you may be eligible for support as a carer, view our carers webpages or contact Gateshead Council's Adult Social Care on 0191 433 7033 or email adultsocialcaredirect@gateshead.gov.uk.
To be eligible for a referral to the Transitions team there must be a clear diagnosis of either a learning disability, Autism and/or physical disability. We may need to verify any existing diagnosis at the point of referral to ensure the most appropriate support is provided.
For those young people who are already receiving children's services, their social worker will make a referral to the Transitions team following their 16th birthday. Alternatively, those young people who are not receiving Children's Services can make a self-referral by requesting an initial care assessment.
Education, Health and Care Plan Reviews
As part of the Transitions team, we have a designated transitions team representative who attends Year 9 and Year 12 Education, Health and Care Plan Reviews. However, if the young person is allocated to a Transitions worker then it will be more appropriate for them to attend the Year 12 EHCP review. The transitions team representative is able to provide information and advice regarding preventative, universal and specialist services. The representative also attends information events at specialist schools, signposts to health colleagues and offers information around self-referrals for a transition's assessment (Care Act Assessment) to those who may have eligible adult care and support needs, but who are not currently open to Children's Services.
If the young person is not eligible for referral to the team
If the young person does not meet the eligibility criteria for a referral into the Transitions team but is likely to have care and support needs as an adult, then the young person or their carer can request an assessment through Adult Social Care Direct after their 18th birthday.
Young people with emotional, psychological and mental health needs will be supported to access appropriate support from the local authority's Adult Mental Health Team as they transition into adulthood. For further information, please contact Adult Social Care Direct – 0191 433 7033 or alternatively, you can make a self-referral online for further support by accessing www.gateshead.gov.uk/article/4771/Care-assessments
It is recognised that young people do not always receive a diagnosis of a learning disability (LD) as a child. If there is a strong likelihood that a young person may have a LD, they can be referred by the Transitions team to the Health / Transitions Group for a full health assessment before their 18th birthday for a LD screening to be considered.