Gateshead Autism Hub is now back up and running following the easing of COVID restrictions. The Autism Information Hub is available to anyone with an interest in autism – parents/carers/family members, professionals, practitioners, or autistic individuals, with or without a diagnosis.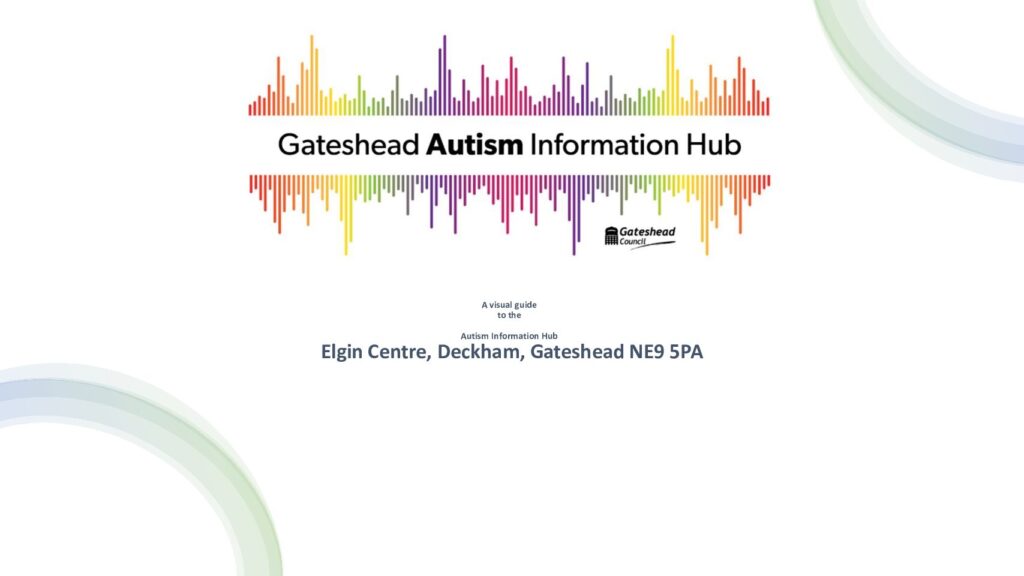 Parent volunteers:
Isabel Gordon – parent peer support
Regular professional contributors:
Alex Thompson (SEND Involvement Worker)
Karen Ruddick, Paul Swales and Leanne Hopper (Transitions)
Representatives from Early Years
Saskia Grassie (Senior Paediatric Occupational Therapist) – currently not available
Guest professionals from other agencies when available, eg SALT, Bowel and Bladder nurse etc.
The Autism Information Hub monthly drop-ins offer:
an opportunity to speak with professionals working with autistic children and young people, and to seek advice about any concerns you might have.
guidance on autism assessment and diagnosis in Gateshead
access to a wide range of books, information and resources on a variety of autism topics, including training, social events, group activities etc
a relaxed refreshment area where visitors can meet people and share experiences
guidance and signposting to appropriate support services and voluntary and charity organisations operating locally
free exclusive access to the sensory room for parents and carers attending the drop-in (children must be supervised by an adult at all times in the sensory room)
representatives from outside agencies who can advise on the help available from their services
Gateshead Autism Hub Facebook Group
Gateshead Autism Information Hub now has a Facebook Group for information sharing. The Hub welcomes parents and carers of autistic children, professionals and practitioners, autistic individuals and anyone with an interest in autism. You do not need to be a Gateshead resident to join.
Please join the group to access our resources, and feel free to share widely.
You can find the Facebook Group here:
www.facebook.com/groups/387109345806360
Autism Hub Parent/Carer Support Groups
The Autism Information Hub has two spin-off support groups for parents and carers of autistic children and young people. The daytime group meets between 9.30 and 11.30am on the first Friday of each month. The evening support group meets between 6.00 and 7.30pm on the Friday evening before the monthly drop-in session. Both sessions are at Elgin Children's Centre.
These meetings are not open to professionals and practitioners.
The Autism Hub also hosts two virtual support group meetings per month. Joining details are shared through the Facebook Group.
All parents and carers are welcome to join the groups for mutual support and information-sharing about their autism experiences. Unfortunately we are unable to accommodate children at these meetings.
For further details please contact autismhub@gateshead.gov.uk
Drop-in and support group dates 2023
DAY TIME SUPPORT GROUP – first Friday of each month
SESSION RUNS 9.30AM – 11.30 AM
Friday 6th January
Friday 3rd February
Friday 3rd March
NO SUPPORT GROUP MEETING ON Friday 7th April – GOOD FRIDAY
Friday 5th May
Friday 2nd June
Friday 7th July
Friday 1st September
Friday 6th October
Friday 3rd November
Friday 1st December
HUB DROP IN – second Monday of each month
SESSION RUNS 9.30AM – 11.30 AM
Monday 9th January
Monday 13th February
Monday 13th March
(this session on the third Monday due to Easter holidays)
Monday 15th May
Monday 12th June
Monday 10th July
Monday 14th August
Monday 11th September
Monday 9th October
Monday 13th November
Monday 11th December
EVENING SUPPORT GROUP – Friday before the monthly Hub Drop-In
SESSION RUNS 6.00PM – 7.30PM
Friday 10th February
Friday 10th March
Friday 14th April
NO MAY MEETING
Friday 9th June
NO JULY MEETING
Friday 11th August
Friday 8th September
NO OCTOBER MEETING
Friday 10th November
Friday 8th December
VIRTUAL SUPPORT GROUP on ZOOM – first Monday of each month
SESSION RUNS 9.30AM- 11AM
No January meeting
Monday 6th February
Monday 6th March
Monday 3rd April
No MAY MEETING (Bank Holiday)
Monday 5th June
Monday 3rd July
Monday 7th August
Monday 4th September
Monday 2nd October
Monday 6th November
Monday 4th December
VIRTUAL SUPPORT GROUP on ZOOM – third Wednesday of each month
SESSION RUNS 7.00PM – 8.30PM
Wednesday 18th January
Wednesday 15th February
Wednesday 15th March
Wednesday 20th April
Wednesday 17th May
Wednesday 21st June
NO JULY MEETING
Wednesday 16th August
Wednesday 20th September
Wednesday 18th October
Wednesday 15th November
Wednesday 20th December
WALKING GROUP – alternate Mondays and Thursdays in the third week of each month
Meet 10am (various locations tba)
Details will be shared via Messenger
places must be booked in advance
Monday 16th January
Thursday 16th February
Monday 20th March
Thursday 20th April
Thursday 18th May
Thursday 15th June
July date tba
Thursday 17th August
Monday 18th September
Thursday 19th October
Monday 20th November
Thursday 14th December (second week due to Christmas preparations)
Free car parking is available for the Autism Information Hub drop-in sessions and support group meetings.
Directions to the Elgin Centre can be found here: The Elgin children's centre.
A guide to claiming Child DLA (Disability Living Allowance) is available in person at the Autism Hub drop-ins or support group meetings.
The Elgin Centre also has a community cafe, a sensory space, play areas and toy library on site.
Click this link for more details about what's on at The Elgin children's centre.
For more information about services available at the Elgin Centre, contact Elgin Children's Centre, Elgin Road, Gateshead, NE9 5PA, phone 0191 433 6300 or email gatesheadchildrenscentre@gateshead.gov.uk